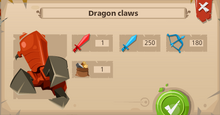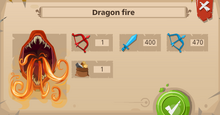 Dragons are powerful beings in the Fire Peaks. They can be attacked the same way then any non-playable castle. When entering the Fire Peaks, you are told that a gang of cultists are attempting to bring back the dragons, destroy the other kingdoms, and rule the land. The player will have to defeat numerous cultist towers before attacking a dragon, wich brings an end to the quest. To simulate a dragon fighting capabilities, there are units called Dragon claws on the flanks and units called Dragon breath in the middle. These unit work the same as normal soldiers and can be destroyed the same way as normal soldiers. There are 200 units in total: 50 dragon claws on each side and 100 dragon breath in the middle. A Dragon is equivalent to an L55 RBC.
A dragon claw has a defense against melee of 250 and a defense against ranged of 180. A dragon fire has a defense against melee of 400 and a ranged defense of 470. This makes dragons the powerful non-player being in the game. However it can be defeated without too many losses with mantlets and good tools, and great commander, and powerful units.
The Dragon Fortress
Edit
This fortress is the hardest in the game. However, as long as you have made your Military hospital to least Level 5, you can heal the troops. Send in no worse that VHC troops, as HC will have severe losses, even with a 90% ranged commander. Imperial Marksmen and Spear Women are best to this mission among heal-able troops, being 15.8%/21.1% more powerful than a VHC, also consider using flank gems, courtyard gems, and also a hero that gives more ranged bonuses to increase the troop strength.
And don't forget, other players may be going to the same place when it opens every 17 hours, so consider using Rubies or Fast Travel Feathers, and have a lot of speed on the commander as well.
Defending Troops
Left Flank Tools
Front Tools
Right Flank Tools
3 St

3 St

3 St

2 Cgr, 3 Fa

2 Cgr, 3 Fa

2 Cgr, 3 Fa

3 St

3 St

3 St

Left Flank Troops
Front Troops
Right Flank Troops
50 Dragon Claws
100 Dragon Fire
50 Dragon Claws
Courtyard
Castellan Effects
+39% wall, +32% gate, +34% melee, +31% ranged
Max loots
6,800 wood, 6,800 Stone, 17,000 Food, 30,000 coins, 370 Rubies, 39 XP.
Attack Formation
Wave
Left
Front
Right
1
martyr
52 VHC + 18 ladd
2
martyr
52 VHC + 18 ladd
3
martyr
52 VHC
4
156 VHC + 40 mantlets
52 VHC
Commander
+90% ranged is a must.
Losses
3 martyr, 85 VHC
A Better way to do so if you have the troops:
Attack Formation
Wave
Left
Front
Right
1
156 Imperial Marksman + 14 Shield walls
77 Spear women + 15 Scaling ladders
2
156 Imperial Marksman
43 Spear women + 34 Imperial Marksman
3
156 Imperial Marksman
77 Imperial Marksman
4
156 Imperial Marksman
77 Imperial Marksman
Commander
+90% Melee, +90% Ranged, -26.6% Wall, +48% Flanks, +47.4% Speed Bonus + 25% from Hero
Losses
49 (38 Spear Women left, 1 Spear Woman + 10 Imperial Marksman cy)
Note: It doesn't matter which flank the troops go on, pick left or right.