We need more troops!
It has been suggested that this page, or a section of it, be extended.
Once the points are expanded, any user may remove this tag.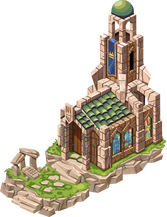 The Glory Memorial is a civil building that grants a percentage bonus on all glory points earned in the corresponding kingdom. It has 100 levels, all purchasable with Rubies and gives a maximum bonus of 400% and Public order of 600.
Statistics
Edit
Building level
Resources
Exp points
Glory
PO
Rubies
Level 1
7500
11
+5%
200
Level 2
7800
14
+7%
200
Level 3
8100
16
+9%
200
Level 4
8550
18
+11%
205
Level 5
9150
20
+13%
205
Level 6
9750
22
+15%
205
Level 7
10350
25
+17%
210
Level 8
11100
27
+19%
210
Level 9
12000
29
+21%
210
Level 10
13050
31
+23%
210
Level 11
14100
33
+25%
215
Level 12
15150
36
+27%
215
Level 13
16500
38
+29%
215
Level 14
17700
40
+31%
215
Level 15
19200
42
+33%
220
Level 16
20700
44
+35%
221
Level 17
22200
47
+37%
222
Level 18
23850
49
+39%
223
Level 19
25650
51
+41%
224
Level 20
27450
53
+43%
225
Level 21
29400
56
+45%
226
Level 22
31500
58
+48%
227
Level 23
33600
60
+51%
228
Level 24
35850
62
+54%
229
Level 25
38100
64
+57%
230
Level 26
40050
+60%
231
Level 27
42900
+63%
232
Level 28
45450
+66%
233
Level 29
48150
+69%
234
Level 30
50850
+72%
235
Level 31
53700
+75%
236
Level 32
56550
+78%
237
Level 33
59550
+81%
238
Level 34
62700
+84%
239
Level 35
65850
+87%
240
Level 36
69150
+90%
242
Level 37
72450
+93%
244
Level 38
75900
+96%
246
Level 39
79500
+99%
248
Level 40
83100
+102%
250
Level 41
86700
+105%
252
Level 42
90600
+108%
254
Level 43
94500
+111%
256
Level 44
98400
+114%
258
Level 45
102450
+117%
260
Level 46
106650
+120%
262
Level 47
110850
+123%
264
Level 48
115200
+126%
266
Level 49
119550
+129%
268
Level 50
124050
+132%
270
Level 51
128700
+135%
272
Level 52
133350
+138%
274
Level 53
138150
+141%
276
Level 54
142950
+144%
278
Level 55
147900
+147%
280
Level 56
153500
+150%
285
Level 57
158100
+154%
290
Level 58
163350
+158%
295
Level 59
168600
+162%
300
Level 60
174000
+166%
305
Level 61
179400
Level 62
184950
Level 63
190650
Level 64
196350
Level 65
202200
Level 66
208200
Level 67
214200
Level 68
220200
Level 69
226500
Level 70
232800
Level 71
239100
Level 72
245550
Level 73
252150
Level 74
258750
Level 75
265350
Level 76
272250
Level 77
279150
Level 78
286050
Level 79
293100
Level 80
300300
Level 81
307500
Level 82
314850
Level 83
322250
Level 84
329850
Level 85
337500
Level 86
345100
Level 87
352950
Level 88
360750
Level 89
368700
Level 90
376800
Level 91
384900
Level 92
393150
Level 93
401400
Level 94
409800
Level 95
418350
Level 96
426900
Level 97
435600
Level 98
444300
Level 99
453100
Level 100
462000
Total Cost
16142670
Average Cost Per Upgrade
161427