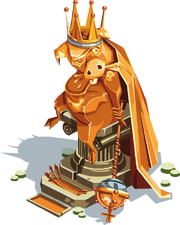 To earn this decoration, you need to do a
quest
that is 13 parts long. Completing will give you this item that gives 18 Public Order.
Story behind this piece
Edit
King Snout was a king and was also an actual pig. King Snout was crowned by the people because Prince Percival told the citizens that they should crown a pig instead of him so "that they could be ruled by their own kind". The citizens took Prince Percival's word and so crowned a pig, later named King Snout. King Snout reigned over the people for six happy and peaceful years.
Ad blocker interference detected!
Wikia is a free-to-use site that makes money from advertising. We have a modified experience for viewers using ad blockers

Wikia is not accessible if you've made further modifications. Remove the custom ad blocker rule(s) and the page will load as expected.