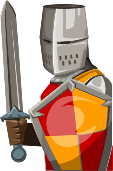 Knight of the Kingsguard is a powerful melee attack unit. It can be recruited if your alliance has a capital, or if you have the title the Conqueror or higher. Moreover, you can get it by collecting 80 activity points on one day and by log in bonus. But it can also be obtained in events like the Underworld, the Blade Coast and the Thorn King. It's more powerful than the Two-Handed Swordsman and Veteran Two-Handed Swordsman, but weaker than a Travelling Knight. However, unlike the travelling knight, it only needs coins to heal.
Statistics
Melee attack: 132
Melee defense: 18
Ranged defense: 6
Loot capacity: 33
Travel Speed: 28
Food Consumption: 4
Ad blocker interference detected!
Wikia is a free-to-use site that makes money from advertising. We have a modified experience for viewers using ad blockers

Wikia is not accessible if you've made further modifications. Remove the custom ad blocker rule(s) and the page will load as expected.