We need more troops!
It has been suggested that this page, or a section of it, be extended.
Once the points are expanded, any user may remove this tag.
The
Olive Grove
enables you to grow olive oil, which can be exchanged for coins,
equipment
, and
troops
. It is similar to the Charcoal in Everwinter Glacier.It is first available to build at level 41.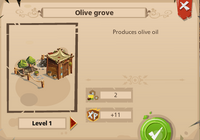 Building
Level
Level Required
Resources
Exp points
Might points
Production
L1 Keep time
L2 Keep time
L3 Keep time
L4 Keep time
L5 Keep time
Wood
Stone
1
41
11,652
14,484
12
6
13
03:36:40
01:48:20
2
3
4
5
6
7
8
9
10
11