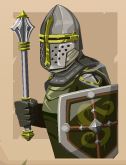 Shadow Scoundrels are a shadow mercenary that resemble veteran macemen both in appearance and combat strength.  They can be recruited from the shadow mercenary camp for rubies.  When you attack someone with this soldier they do not appear as an attack from your castle, making them well suited for attacking without starting wars.
Statistics
Edit

Melee attack: 118
Melee defense: 20
Ranged defense: 6
Looting capacity: 32
Travel Speed: 22
Ad blocker interference detected!
Wikia is a free-to-use site that makes money from advertising. We have a modified experience for viewers using ad blockers

Wikia is not accessible if you've made further modifications. Remove the custom ad blocker rule(s) and the page will load as expected.