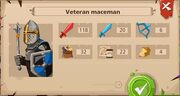 Veteran
Maceman
are strong melee attackers and are the counter-part to a
Veteran Crossbowman
. Compared to the standard ones, they are MUCH slower (slowest of the veteran troops), have less melee defense, and eat twice as much food per hour.
Statistics
Edit
Cost: 230 Coins (161 Coins if your glory title is Count or above)
Melee combat strength:118
Melee defense: 20
Ranged defence: 6
Travel speed: 22
Food consumption: 4
Ad blocker interference detected!
Wikia is a free-to-use site that makes money from advertising. We have a modified experience for viewers using ad blockers

Wikia is not accessible if you've made further modifications. Remove the custom ad blocker rule(s) and the page will load as expected.