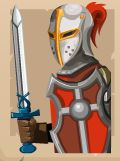 Veteran swordsman are the stronger version of the standard swordsman.  You use the research this with research tower level 2.  They are versatille melee soldiers. TIP: These soldiers can both be good for attack AND defense, use them often.
111 melee attack power
138 melee defense power
72 ranged defense power
29 loot capacity
28 travel spee
6 food consumption
Oddly, this is the only recruitable soldier (without needing a title) who will never been at the Mission post that one can recruit at the Barracks. This is likely due to lack of a Veteran Archer.
Ad blocker interference detected!
Wikia is a free-to-use site that makes money from advertising. We have a modified experience for viewers using ad blockers

Wikia is not accessible if you've made further modifications. Remove the custom ad blocker rule(s) and the page will load as expected.