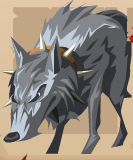 The
Wolfhound
is an extremely fast unit and are bought from the native village in Everwinter Glacier. 10 of these Wolfhounds cost 7,200 Charcoal. These units are usually used for
Resource Village
captures, as they are fast and strong enough to beat the farmers in the there. However, not only do they take
Rubies
to heal, they are the only soldier (other than the similar
Direwolf
) to have no ranged defense, and no looting ability (also shared with the after-mentioned Direwolf).
Melee Attack Power: 50
Melee Defense Power: 50
Ranged Defense Power: 0
Travel Speed: 80
Food Consumption: 3
Ad blocker interference detected!
Wikia is a free-to-use site that makes money from advertising. We have a modified experience for viewers using ad blockers

Wikia is not accessible if you've made further modifications. Remove the custom ad blocker rule(s) and the page will load as expected.